High-end off-the-shoulder tube top shoulder bandage skirt, temperament slim sexy dress
stars, based on
11
reviews
Description
esaning

Material: 90% polyester
Length: knee length
Sleeve: sleeveless
Adjustment: Suitable for club, nightclub, party, night out, clubwear, evening, wedding, homecoming. Style good for Spring,Summer,Autumn and Winter.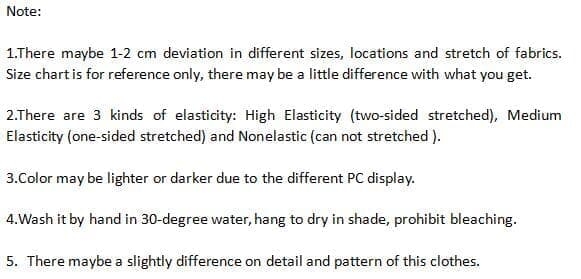 Reviews (11)
ByLord of DarknessWednesday, 13 May 2020
This dress fits amazing. I am 5'6" 120lbs and purchased a small. Nice thick material.
BySpaLadyBrieTuesday, 28 April 2020
I did not expect to love this dress. The color is just what I expected. The material is higher quality than other similar priced dresses. It's soft and lays perfectly. I took advice from reviews that said they ordered up a size.
ByS. B.Wednesday, 22 April 2020
dress fit just right nice colour.
ByKaren O.Friday, 17 April 2020
I am 5"9' 185lbs and I ordered the large. It fits like a glove. It's tight enough to hold in extra stuff and not need spanx or other garments. I can't wait to wear it.
ByTYKTuesday, 14 April 2020
Lovely dress,It's close fitting
ByC WalkerFriday, 10 April 2020
prefect fit hugs all my curves in the righ places , feeling not really cheap material perfect for a wedding or a christening
ByAnnemarie MelloThursday, 02 April 2020
Bought this outfit for my wife. She loves it!! It fits perfect and I LOVE the way she looks!!!
BybücherwurmregensburgFriday, 17 January 2020
This dress is amazing. I got sooo many compliments. My husband loves it. For obvious reasons... The dress has a thick material, that is very tight. But in a good way. It is as if you are wearing a full body spanx dress. Just without the uncomfortable feeling. It sucks everything in at the right places and works as a build in push up too. What more can a girl ask for? I love it. Oh, and for references. I am small and pretty curvy. And would never, ever wear some other skintight dress in public.
ByKEFriday, 17 January 2020
Order a size up, as it runs pretty tight. Very flattering and great quality. Perfect for a night out!
ByAlinaSaturday, 11 January 2020
Very nice, it is perfect on the body, like the photo, the size is correct, I recommend you do not think about it, buy it
BySonya WalleFriday, 03 January 2020
This dress is beautiful! I really wasn't expecting it to fit as it did. The material is perfect and it fits like a glove. I have a larger chest so definitely will need some tape to hold the strapless side down.