Party bandage dress, sexy black cutout thin straps club dress
stars, based on
11
reviews
Description
esaning

Material: 90% polyester
Length: knee length
Sleeve: sleeveless
Adjustment: Suitable for club, nightclub, party, night out, clubwear, evening, wedding, homecoming. Style good for Spring,Summer,Autumn and Winter.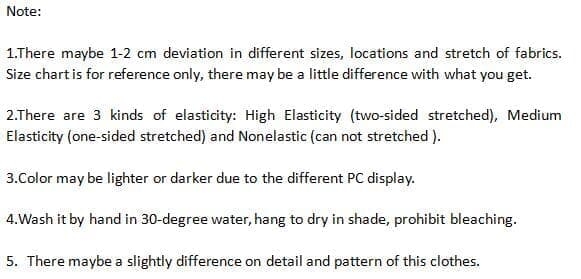 Reviews (11)
ByInternetshoppingjunkieWednesday, 13 May 2020
I really like this dress! It is super flattering and also very comfy. I am 5'2 about 130 lbs and I got a small for reference and it fits perfectly! I really like that if you want it to focus more around your waist that you can just pull the fabric more! Definitely would recommend!
ByWendy F TorreyTuesday, 28 April 2020
First off, I'm a small person. I'm 4'11 and 100lbs. I got the size small in watermelon and I love it. I can see how it would be too short on a normal sized person, though, so maybe order up a size if you're not a lollipop kid. It can be tightened around the waist to fit better. This is my first time ordering clothes from esaning because I assumed they would all be crappy but the fabric has a nice weight to it. Also, the color is amazing so if you're blonde....
ByMiaWednesday, 22 April 2020
Stunning!Awesome fabric, lovely colour! I need more of those!
ByAmira MarufFriday, 17 April 2020
Was great material! Fit as expected but the colors were lighter than the photo. It was really cute!
ByDeborah KrajewskiTuesday, 14 April 2020
Lovely dress. I saw others said the material was good quality
ByJanni JordonWednesday, 08 April 2020
dress fit amazing and was on point for my birthday. I love the material.
BySissiWednesday, 01 April 2020
I order the S size, is a little small, but fit great , good price.
ByAmanda Sullivan LoveFriday, 17 January 2020
I wore this dress to a wedding this past weekend. I wanted a dress that was both comfy
Bymalutka90Saturday, 11 January 2020
I love this dress, by far I think this is my new favourite dress in the closet!!!!!! Maybe I will buy different colorsHIGHLY RECOMMAND!!!!!!!!!!
BynatifahFriday, 10 January 2020
I love this dress so much. Good quality and fits perfectly. I would definitely buy from this vendor again
ByKindle CustomerFriday, 03 January 2020
I bought this dress for some family portraits, and I loved it! It's a little tight but of course there's ways to work around it like ruching and angles. Its a nice material so its not too thin. It was just as described which was great! I cant wait to see how the pictures turned out.