Description
esaning

Material: 90% polyester
Length: short
Sleeve: sleeveless
Adjustment: Suitable for club, nightclub, party, night out, clubwear, evening, wedding, homecoming. Style good for Spring,Summer,Autumn and Winter.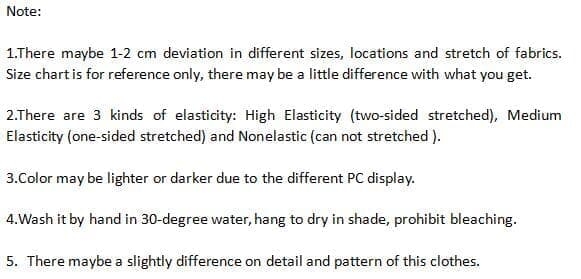 Reviews (8)
ByAmy DuffFriday, 24 April 2020
ByErikaMonday, 20 April 2020
I absolutely love it. This dress is so versatile and looks really good, i really love it, Im using it to dress up as Cleopatra for Halloween and it works perfectly very comfortable too.
ByDebbieWednesday, 15 April 2020
Was absolutely delighted with this dress! Delivery spot on! Dress well made, and fits perfectly! I normally order a size 14, but as I have recently lost some weight, and size 14's are invariably too large on waist n hips, I took a chance and ordered size 12 - PERFECT! This is my second dress from esaning and I can recommend their dresses 100%! I am now looking for a chunky necklace to go with it!
ByMichelleFriday, 10 April 2020
ByBremm567Thursday, 02 April 2020
I bought this to wear for a Christmas lunch with extended family, and I felt comfortable and confident. I don't wear dresses so this was a brace move for me. So glad I did. I was so impressed with it I bought another two dresses in different styles. Mainly because the fit was comfortable and didn't cling in places I didn't want (:-]). Great dress
ByOrlando L.Monday, 20 January 2020
Perfect dress. I was worried about the sizing because it's so tight fitting but the large worked perfectly for me. I am 5'9", around 170 lbs, 34-29-43. I have a serious booty and that's the biggest reason that a lot of clothes don't work for me, but this is literally perfect. Squishes your boobs a little but I don't mind. Also, doesnt show too much cleavage but if you wanted it to you could pull it down slightly without it looking wierd. And you can wear a regular bra with it with no straps exposed. If you bend over, it bends with you instead of riding up and exposing your butt. Comes to mid thigh on me, and I'm moderately tall. Really fitted, but doesn't make it hard to breathe or restrict your movement at all. I'm fact, it's really comfy. So glad i bought this dress and considering getting the black one too.
ByB PearsonTuesday, 14 January 2020
Fits very tight and short, as expected. Seems well made and arrived quickly. Overall, exactly as described.
Byalisia lawsonMonday, 06 January 2020
Absolutely stunning dress. Am fitting into medium sizes now but I ordered a size up and the fit is perfect.