Description
esaning

Material: 90% polyester
Length: short
Sleeve: sleeveless
Adjustment: Suitable for club, nightclub, party, night out, clubwear, evening, wedding, homecoming. Style good for Spring,Summer,Autumn and Winter.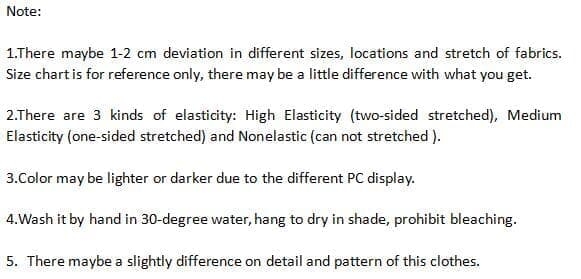 Reviews (9)
ByJojoMonday, 27 April 2020
ByLaQuitaSunday, 26 April 2020
I ordered size large. I'm 5'4", 130 lbs, bust 36", wast 30, hips 37. This fits fine. It's cute. It is comfortable. It was reasonably priced. I'm happy with this dress.
ByMonique da silvaTuesday, 21 April 2020
I feel and look very elegant. Received numerous complements
ByLaura AmadorThursday, 16 April 2020
This is a very flattering and well-made skirt. The length is very chic, and it looks more expensive than the actual cost.This is a very attractive, good value skirt.
BygladysmMonday, 13 April 2020
Love all the clothes I have bought from this brand, people always comment on how nice they look and they always fit perfectly.
BydeniseoFriday, 03 April 2020
I've been looking for a bodycon outfit for awhile now. I've looked at boutiques and at guess. Mostly I've found overpriced spandex.... when I found this I thought "hey what a great price and they seem well made". I was right. When it arrived it fit perfectly although it's one size fits all , the quality is quite apparent too. I will be buying this outfit in different colors :)
ByJocelyn MurchisonThursday, 16 January 2020
This is such a classy dress. I purchased this dress for my work christmas party and received non stop compliments. Im glad i made this purchase. I will continue to purchase my dresses from this buyer.
ByU-NurseThursday, 16 January 2020
I ordered this dress in size large and it fits perfectly! I am 5'6 180 lbs and it fits like a 2nd skin! If you're my size and want a little extra room definitely go with the x large but I'm telling you this dress sucks everything in and gives you a beautiful shape
ByJulia MeyerTuesday, 07 January 2020
Cute midi dress! Affordable. Wore it to a wedding and I had no problems with it staying put for dancing all night. Happy with this purchase!